Resume
Обновление: 2 февраля, 2020
Maksim Kramarenko's CV
Email: maxim@kramarenko.pro    Telegram: Maksim    LinkedIn: Maksim Kramarenko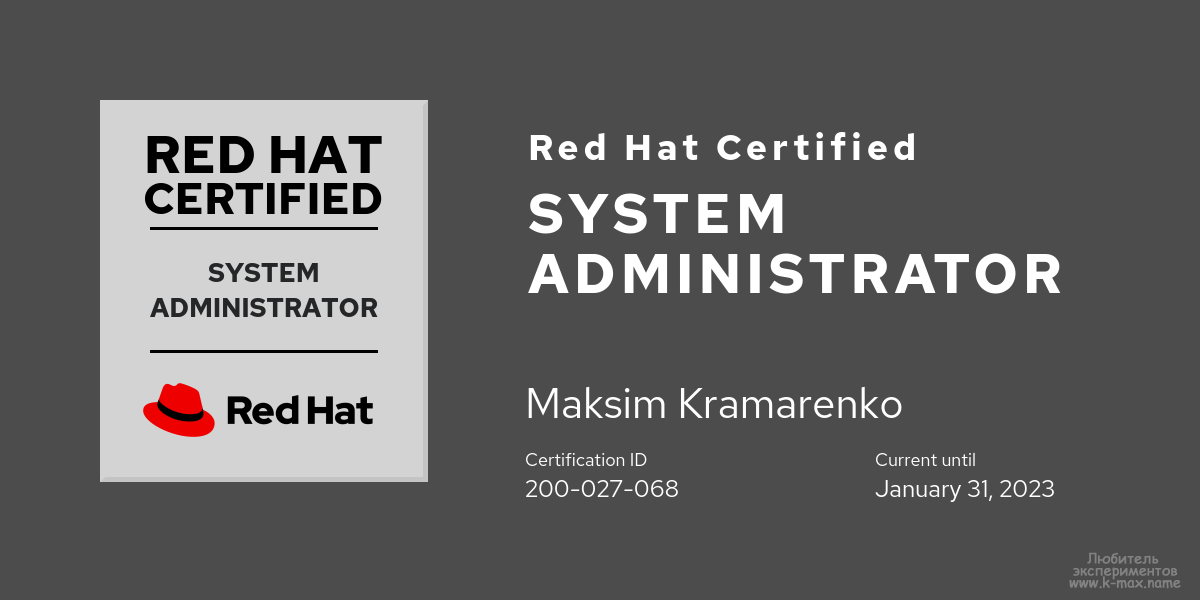 When you don't focus on just one technology, your CV becomes a mishmash. It needs more and more tailoring for particular offers. This is an attempt to write a generic CV that reflects all my career ways.
Since I worked with many services and systems, I sometimes need to refresh knowledge and re-read the documentation
A few of my credos are:
well troubleshooting systems are the systems which documented well
design and implement the simplest solution, as simple as it possible (in other words: grows complexity system then grow the complex trouble and fixing time)
Automate any (all) routine!
What I can do
Systems administration and analytics
General
In general, I can do and I did it every day or almost every day:
Determine an organization's system needs and install hardware and software
Determine environmental and hardware specifications for equipment, such as power, CPU, memory, storage
Make needed upgrades and repairs to equipment and ensure that systems are operating correctly
Maintain network and computer system security
Evaluate and optimize network or system performance
Add users to a network, and assign and update security permissions on the network
Train colleagues in the proper use of hardware and software
Interpret and solve problems when somebody or an automated monitoring system alerts that a problem exists
Documenting everything by writing procedures and hardware, software and network equipment technical documentation
Develop and implement best practices for business needs and improve availability
Design and installing new systems by choosing and configuring hardware and software
Oversee the installation and configuration of new systems to customize them for the organization
Conduct testing to ensure that the systems work as expected
I worked with HP\HPE, IBM (a little), NetApp, EMC (a little), and some Russian vendor hardware equipment.
UNIX\Linux
Worked with different rpm and deb-package distributives, such us: RHEL/CentOS/Scientific/SLES/etc.., Debian/Ubuntu, FreeBSD (a little).
Design, configure, deploy and maintenance services: SMB\CIFS, NFS, Postfix, Sendmail, NTP, Squid, DHCP, SSH, Syslog, Netfilter/iptables, CUPS (a little), Apache, Lighttpd.
I can integrate Linux to Microsoft AD infrastructure with DNS, NFS, SMB\CIFS services.
Can perform the usual tasks: install packages, configure services, add users, performance troubleshooting, configure network and system parameters.
I write shell scripts routinely.
Microsoft
Worked with different MS Windows OSes (from XP till 10 and from 2000 till 2016 Server).
Design, configure, deploy and maintenance services: NTP, DNS, DHCP, Active Directory, IIS, SMB\CIFS, DFS, WSUS, Windows Terminal Server.
Virtualization
Worked with VMware vSphere\ESX, VirtualBox, Hyper-V (a little).
Design, Configure, Deploy and Maintenance: several 2-4 rack-servers datacenters with each a few dozen VMs, vCenter, HA, vDS, VDP (with host-off backup solutions), DFS, Resource pools and so on. Made OVA\OVFs for VMware and VirtualBox, used VMware OVF fields for appliance configuration.
I am familiar with Cloud-technologies but have little experience with it.
Backup solutions
I can design, deploy and maintain backup solutions. I worked with Symantec\Veritas Netbackup and Veeam (a little) for file-based, Vmware-based, FC-storage solutions-based to make Application-consistency backup. Write lots of automation backup scripts with bash, cmd, PowerShell.
I am familiar with file-based, Snapshots, Tape, D2D backups and known methods on how to lowering Recovery Point Objective (RPO) and Recovery Time Objective (RTO) parameters. I understand the differences between application-consistent, crash-consistent backups.
Antivirus
I made design, install and maintain Dr.Web Security Suite, NOD32 Smart Security business edition, Kaspersky endpoint security.
Databases knowledge
In general, I can do with databases most administration tasks:
Installing and upgrading the database server and application tools
Allocating system storage and planning storage requirements for the database system and application
Ensure that organizational data are secure
Planning for backup and recovery of database information to prevent data loss
Ensure that databases operate efficiently and without error
Maintain databases and update permissions
Merge old databases into new ones
Worked with MySQL, Sybase\SAP ASE and IQ, MSSQL and PostgreSQL.
I am familiar with but have little experience with modifying the database structure, generating various reports by querying from the database as per need.
Networking
General networking
Can assess, design and deploy small and medium-size networks and addressing plans (choose physical media, VPN protocols etc. to match the requirements). Determining to predict future network needs by analyzing current data traffic and estimating how growth will affect the network.
Can diagnose network problems, use standard and advanced tools (traceroute, nmap, netcat, whois, dig etc.), make and interpret traffic dumps with tcpdump/Whark.
Worked with Cisco (IOS, NX-OS, IOS XR), ProCurve\3COM, D-Link, Brocade FC switches, Linux-based (such us OpenWRT), OTN System Network equipment and Management systems: OTN150\OTN-X3M SDH networks. I have experience with dual stack setups.
I am familiar with SCS design, install and maintain. Worked with Panduit, Hyperline copper and optical SCS.
Telecom and IT Network Management Systems
Last 5 years (from 2012) one of my main responsibility is telecom Network Management Systems Design, deploy and maintain.
I am familiar with most network management protocols and features such as SNMP, syslog, RMON, NetFlow.
One of my NMS products, which I have, many experiences is Microfocus NNMi (formerly HP OpenView) with different iSPIs: MPLS, Metrics, Traffic, QA for different scale: from 300 to 4000 network nodes with more 100 000 sensors, different configurations from Standalone to Application Failover.
Besides, I have already experienced such NMS services as MRTG\PRTG, cacti, Nagios, Solarwinds products and Cisco PI (a little) as well.
Switched networks
I can setup 802.1q VLANs, link aggregation. I can setup spanning tree protocols when I have to (I prefer link aggregation whenever the topology allows).
Familiar with L2 security features such as private VLAN and MAC address policies.
What I have little experience with MPLS, optical network infrastructure (DWDM etc.).
Routed networks
I am familiar with static routing principles, routed protocols (a little): EIGRP, OSPF, BGP, RIPv2. In most cases for network diagnostics.
Used multiple VPN protocols and scenarios including IPsec, OpenVPN in site-to-site and client-server modes, L2TP/IPsec and PPTP for remote users.
Security
I estimate my security knowledge in the upper-average level.
I am familiar with the servers and services hardening methods for such as operating systems (Windows\Linux), Active Directory, Vmware, Databases and Network devices. I am also familiar with basic cybersecurity principles: password requirements, timely testing and install updates and patches, backing up and testing it, firewalling network connections, virus protections, user learning, Authentication, authorization and accounting, log change in the systems, using test environment isolated from production. All these things I can do and I made it.
I am familiarity with ФСТЭК (FSTEC), NIST and ISA-99 security standards to securing PCN (Process Control Networks).
Network Storage
I worked with NetApp FAS-series products in different configurations, all design, deploy and maintenance: as standalone HA NFS\CIFS storage, as Vmware FC, NFS and FCoE storage, as a backup solution for Vmware and standalone in NFS, FC configs with SnapVault, SnapMirror and Tape backup. I am familiar with NetApp storage efficiency technologies: deduplication, thin\thick provisioning, Snapshots, Flash. I'm familiar with data protection solutions: RAID-DP\TEC, SnapMirror, SnapVault, NDMP. I'm familiar with 7-mode and CDOT.
Worked with HP EVAP6300 as a SAN (FC) Storage for Windows Server and Vmware.
I designed, installed and manage Brocade (HP) Fibre Channel Storage Area Network switches in dual switched Fabric configurations with NetApp and HP EVA Storages and point-to-point Fibre Channel between servers and FC devices (Tape drive\robot).
Telephony
I have experience installation a single PBX Panasonic KX-TDA for 100 users with PSTN external lines, route calling internal and external subscribers.
Programming Skills
Last 2 years I am learning hard the Python programming language. I use the Python in my routine automation tasks and network management and automation.
I'm also familiar with the basics next languages program code.
Can write: HTML, CSS.
Can read, understand and fix some problems: Perl, PHP.
Developed websites in PHP (based on WordPress, Joomla CMSs). Fix problems and optimize performance by modifying code.
Of course, shell and command-line scripts for automation of routine operations, I have knowledge and experience with it.
Where I worked
Telecom Engineer, JSC Caspian Pipeline Consortium-R, From 2012
CPC is the largest international oil transportation project with the participation of Russia, Kazakhstan. With the highest level requirements to availability and stability of technology Process control Network of pipeline.
Control and supervision of design, construction, acceptance test and commissioning of telecommunication network and NMS systems CPC-R, CPC-K by the contractor. Checking drawings and design estimates.
Further, servicing and maintenance implemented telecom solutions.
I have experienced with project management this job, but I prefer to remain in a technical rather than an administrative role for the most part.
System Administrator, LLC SAG, 2010-2012
Modernization and optimization of network, server and application infrastructure. Migration some accounting application services from Microsoft to Open Source Linux platform. Installed redundant network and server solutions to improve service availability.
A middle-size headquarters office with some warehouses with about 50 workstations and a few dozen servers and routers. About a few dozen branches with portable laptops. Installed VPN (PPTP) server to integrate all branch offices with the headquarters office. Redesigned the company network to use a public subnet provided by the ISP rather than a NATed private subnet. Configured a web proxy (Squid) to conserve bandwidth, authenticate and authorize internet access users and block NSFW websites. Kept the network and the workstations running, provided technical support to network clients, and performed hardware installations/repairs. Kerberized with ActiveDirectory NFS, Squid and SAMBA services to transparent authorize authenticated users.
System Administrator (remotely), LLC «Na Kubani.ru», 2009 — 2012
Mass media and PR-company.
Managing company network, servers, workstations and PBX. Installed stacked core switches to improve the availability company network. Designed and installed the Linux-based router, firewall and proxy server to improve availability LAN resources from WAN networks by implementing 2 external links from different ISP and source-based policy routing.
Рrovided support to staff, fixed cabling, and performed hardware installations/repairs
Specialist of IT department, "Kubanlitstorg-control" (Government Department of Consumer Sphere and Regulation of the Alcohol Market Krasnodar Region), 2007 – 2010
Working in a team with Delphi-programmers to support and maintain company network, servers and staff's desktops. Administration Firebird SQL server, MS SQL Server, ActiveDirectory, proxy and remote access PPTP server.
Did not break anything, keeping the network be running, and provided support to users.
Languages
English, Intermediate,
Russian, native
Education and training
Course "Python for Network Engineers" by Natasha Samoylenko, March 2019
Course "Python Programming. Level 2. Advanced", Computer Training Center «Specialist» at Bauman Moscow State Technical University (Bauman MSTU), March 2019
Course "Programming with Python. Level 1. Basics", Computer Training Center «Specialist» at Bauman Moscow State Technical University (Bauman MSTU), February 2019
Course "ONTAP 9.3 Cluster Administration (ONTAP9ADM) and ONTAP 9.3 Data Protection Administration (DATAPROT9)", Fast Lane Education Center, April 2018
Course "NNMI200 - Network Node Manager i Software 10.x Advanced", HP Education Center, November 2017
Course "VVNA VMware vSphere on NetApp", Fast Lane Education Center, May 2017
Course "OTN-X3M for Service Engineers", Training Center OTN Systems at Belgium, April 2017
Course "ICND1, ICND2", Computer Training Center «Specialist» at Bauman Moscow State Technical University (Bauman MSTU), July 2016
Course "SISAS Implementing Cisco Secure Access Solutions", Fast Lane Education Center, July 2015
Course "DCNX5K Configuring Cisco Nexus 5000 Switches", Fast Lane Education Center, May 2015
Course "Implementing Cisco Secure Access Control System (ACS) Version 5.2 (ACS)", Fast Lane Education Center, May 2015
Course "IPS [Implementing Cisco Intrusion Prevention System]", Fast Lane Education Center, April 2015
Course "ROUTE Implementing Cisco IP Routing", Fast Lane Education Center, December 2014
Course "SWITCH Implementing Cisco IP Switched Networks", Fast Lane Education Center, September 2014
Course "NNMI120 - Network Node Manager i Software 9.x Essentials", HP Education Center, September 2014
Course "VMware vCenter Configuration Manager for Virtual Infrastructure Management [V5.X] and vCOps VMware vCenter Operations Manager: Analize and Predict", Microinform Education Center, March 2014
Course "NetApp ANCDABC87 (Accelerated NCDA Boot Camp Data ONTAP 7-Mode)", Fast Lane Education Center, September 2013
Course "NetApp D7ADM (Data ONTAP 8.1 7-Mode Administration)", Fast Lane Education Center, July 2013
Course "UNIX (Linux/FreeBSD). Interaction with Cisco Systems networking equipment", Computer Training Center «Specialist» at Bauman Moscow State Technical University (Bauman MSTU), 2011
Course "UNIX (Linux/FreeBSD). UNIX-based systems as servers on the Internet", Computer Training Center «Specialist» at Bauman Moscow State Technical University (Bauman MSTU), 2010
Course "Linux. Basic Administration and Security", Computer Training Center «Specialist» at Bauman Moscow State Technical University (Bauman MSTU), 2010
Specialist's degree (5 years), Systems Security Engineering, Kuban Information Security Institute, / Krasnodar military institute named for Army General S.M.Shtemenko», Krasnodar. 2003-2008
Personal qualities
Purposeful, ambitious. Permanent self-education and professional development. Ability reasonably defend my point of view and find compromises.
References
Oleg Poltoratskii, CTO, LLC «Na Kubani.ru», oleg@poltora.info